Vintage Pipeline Photographs, Films, and Movies- Five Volume DVD Series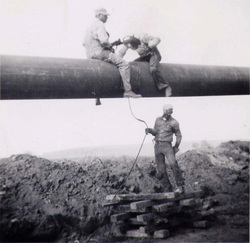 Building a cross-country pipeline is a monumental task. The hours are long, the work is hard, and many situations are dangerous. In this series of DVDs, we have gathered hundreds of photographs, video clips, reel-to-reel films, and several professionally produced movies to capture the essence of life on the pipeline and pay tribute to the men who get the job done.

Each disk is filled with a variety of media in the public domain, orphaned works, contributions from professional pipeliners, and a number of original creations that we have put together over the years. All together, we have assembled nearly six hours of pipeline, construction, and heavy equipment media for you to enjoy. Order your set today!

Already own the first disk? Order an "Upgrade Package" below to get only the newer disks.
---
Upgrade package
Do you already own our previously released disk "Pipeline Old Pics & Wrecks"? Then this upgrade package is for you. It is a complete set (as above) minus the first disk, which is identical to the previously released DVD. There's even an extra sleeve so you can store your current DVD with the new ones.
(total run time: 4 hrs. 58 min.)
---
Vintage Pipeline Media: Bonus DVD
We've collected some awesome heavy equipment and extreme construction materials over the years that have absolutely nothing to do with pipelining. Here's where you can see them all, including some of the most intense wreck photos we've ever seen. Disk content includes a vintage Caterpillar diesel engine film, the 1927 silent film "Wheels of Progress", an epic photo montage "Quarry Disasters", and more!
(58 min.) Available only as part of a Complete Set or an Upgrade Package.